From the laser parameters to the tribological properties with COMSOL Multiphysics®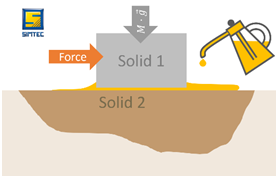 COMSOL European Conference 2019
V. Bruyère¹, J-D Wheeler¹, P. Namy¹
¹ : SIMTEC, Grenoble, France
In this work, the authors compare two different approaches to obtain the topography of laser texturation. Their aim is to demonstrate their strengths and weaknesses when being used as input data in a fluid lubrication model able to take into account non smooth surfaces. The first method consists in including the height distribution stemming from topography measurements. The second is rather different and deals with the numerical predictions of the topography. Indeed, SIMTEC has developed a thermo-hydraulic model to quantitatively predict the shape of the laser crater. The output of such a model is a prediction of the topography.
The lubrication results obtained with the numerical predictions are presented, together with the strengths and difficulties of both methods.
---
Multi-scale modelling of a reacting flow through a porous bed using COMSOL Multiphysics®

COMSOL European Conference 2019
S. Bouchex-Bellomie1, T. Paris1, V. Bruyère2, P. Namy2, J. M. Dedulle2
¹: CEA Valduc, 21120 Is sur Tille, France
²: SIMTEC, 38000 Grenoble, France
Using the software COMSOL Multiphysics based on the finite element method, a one-dimensionnal model has been developped to predict the transient behaviour of a gas flow through a porous bed. The problem is solved at a macroscopic scale, therefore, the porous bed is seen as a continuum with adapted equations such as Darcy's law. Because the gas phase is composed of different species, diffusive effects are taken into account. The solid matrix is composed of a metal which can absorb gas within its lattice. Therefore, chemical exchanges occur between the gaseous species and the species initially loaded in the solid phase. The chemical exchange is assumed to be rate-limited by the surface exchange taking place at the gas and solid phases interface. Thermal effects are also taken into account and coupled with the others mechanisms (convection, diffusion and chemical reaction). Finally, numerical results have been compared with experimental data from the litterature.
---
Femto-second laser texturing prediction using COMSOL Multiphysics®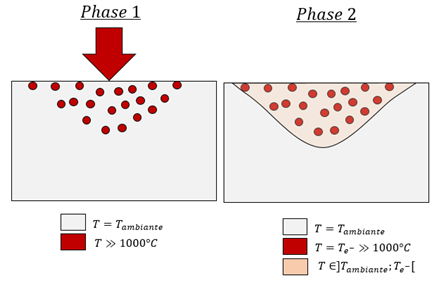 COMSOL European Conference 2019
E.C. Chevallier¹, V. Bruyère¹, G. Bernard², P. Namy¹
¹: SIMTEC, Grenoble, France
²: GFMS, Meyrin, Switzerland
Femto-second laser texturing offers the possibility to reduce significantly the amount of molten material. This means better surface properties as well as more accurate prediction of the surface topography. At SIMTEC, we developed a 2D time dependent model. The ultra-short deposition of the energy is taken into account in this model through an approach called the "two-temperature model", which consists in modelling the Thermalization of the electrons followed by the energy transfer from the electrons to the lattice.
In this article, we review the range of pulse duration requiring the use of this two-temperature model. The results show that for pulses lower than several tens of picoseconds, the lattice and electron temperature are significantly different indicating the need to use the two-temperature model. This is in accordance with physical phenomena description of ultrashort laser impacts.
---
When Precise Numerical Predictions Come to the Rescue of Liquid Lubrication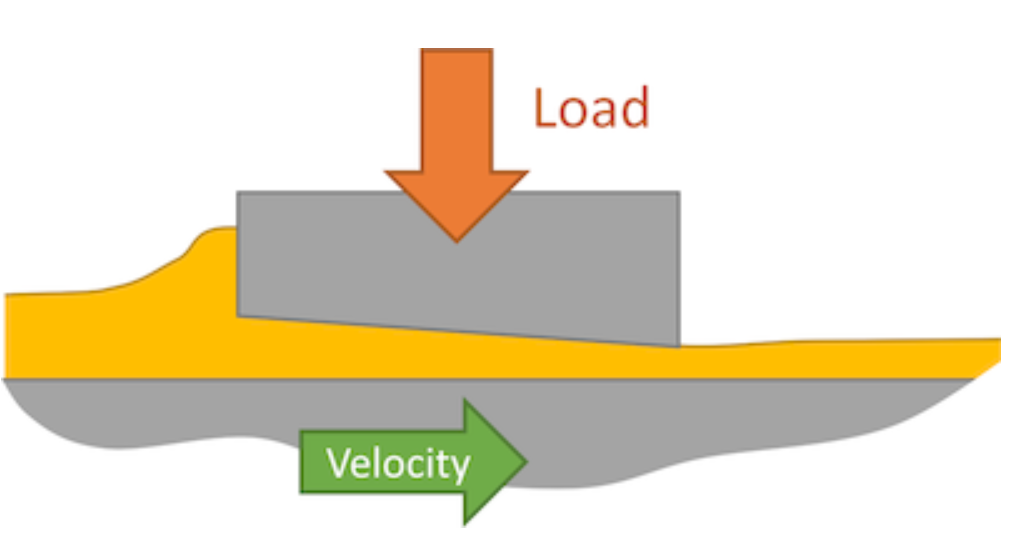 COMSOL European Conference 2018
J. D. Wheeler¹, V. Bruyere¹, P. Namy¹
1. SIMTEC, Grenoble, France
Whereas some bearings designed in the 19th century are still working properly nowadays, some more recent ones encountered premature failures. Tribological applications, such as journal bearings or rolling element bearings, are ruled by complicated multiphysical phenomena.
An appropriate numerical model is one of the most efficient mean to better understand the physics of these applications. Such a model involves the solving of the Reynolds equation. At high loads, solid deformations may also play a role. The contact would then follow an elasto-hydrodynamic behaviour. Moreover, the lubricant shearing is very likely to generate a significant heat which should be accounted for.
A simple tribological model, the lubricated pad, is presented in this article. Its goal is to address the different challenges that may be involved under different working conditions. A COMSOL application based on the model developed for this tribology case is also developed. It is run with COMSOL Server™.
---
Free Surface Deformation of the Weld Pool in Orbital Narrow Gap GTA Welding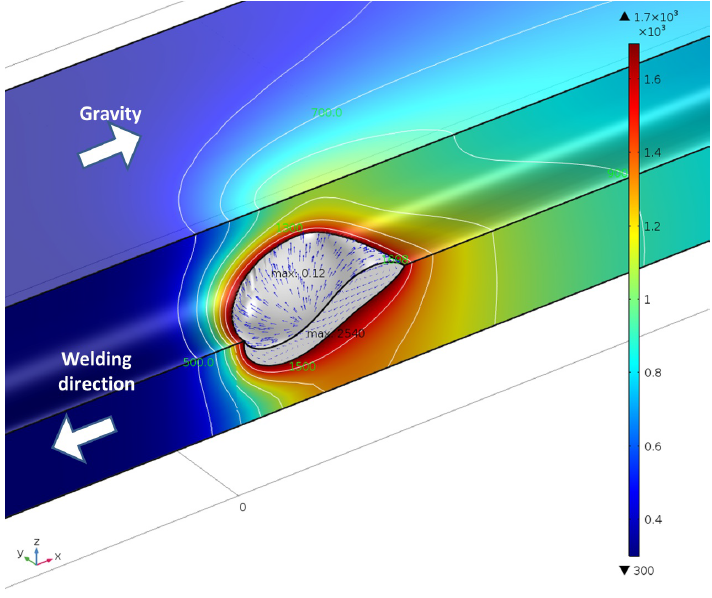 COMSOL European Conference 2018
S. Morville¹, V. Bruyère², P. Namy²
¹ Technical Center FRAMATOME, France
² SIMTEC, Grenoble, France
Arc current welding is a widespread process in heavy industry for the assembly of metallic components. In order to ensure the good quality of welded assemblies, it is appropriate to master the welding process but also to have a deep understanding of interactions with the weld pool and resulting characteristics. Numerical simulation is used as a predictivein situ analysis tool which provides additional data to real-time measurements. It involves taking into account heat transfer and fluid flow inside the melt pool, but also electromagnetic phenomena induced by the electrical arc. For that purpose, a 3D steady-state model is implemented with energy, momentum, mass and current conservation equations and by taking into account the deformation of the free surface with an ALE method. Marangoni effect, Lorentz forces and Buoyancy are also included. Results are in good agreement with the state-of-the-art knowledge.
---
Finite Element Prediction of Laser-Material Interaction using COMSOL Multiphysics®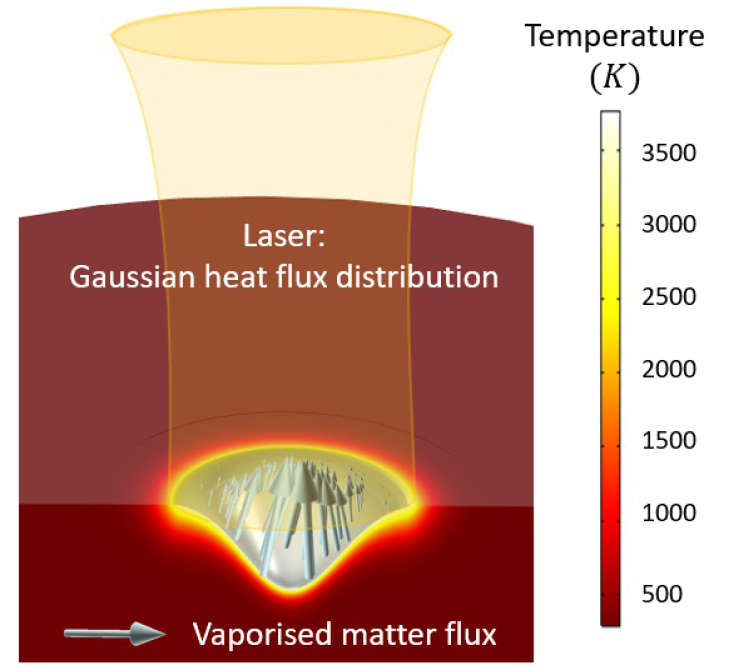 COMSOL European Conference 2018
E.C. Chevallier¹, V. Bruyère¹, TianLong See², P. Namy¹
¹. SIMTEC, Grenoble, France
². Manufacturing Technology Centre (MTC), United Kingdom
Surface engineering is a key technology used in a wide range of sectors in industry. Among other techniques, it involves adding functionality to a surface. The objective of the work presented in this paper is to build an application using COMSOL Multiphysics® to predict the topography produced given the set of laser parameters as well as the material properties of the sample to be textured.
The application of the model is twofold. First, the influence of the laser parameters such as power, frequency and impact duration on the final topography is assessed. Then, an application is created using the Application Builder so the surface topography prediction can be integrated in a laser machine, enabling the future user to predict the topography of one laser impact on its sample, using COMSOL Server™. The topography is further used in the machine to predict the surface functionality of the sample (wettability, friction coefficient etc.).
---
Influence of a Porous Corrosion Product Layer on the Corrosion Phenomenon of Carbon Steel Pipelines

COMSOL US Conference 2018
M. Mohamed-Saïd¹, P. Namy¹
¹SIMTEC, Grenoble, France
Assessing the severity of the internal corrosion of structures is of paramount importance in the oil & gas industry. Considerable effort has been deployed to implement an adequate electrochemical process of the corrosion phenomenon. However the influence of transport phenomenon trough a porous corrosion product layer (CPL) on the corrosion rate has not been studied extensively yet.
The transport phenomenon can influence the corrosion rate significantly by either limiting or accelerating the cathodic contribution. In this paper the general corrosion of a carbon steel under a porous CPL of siderite is studied and the influence of the transport phenomenon is examined using COMSOL Multiphysics ®. This model constitutes a first step and can be used for further development in order to assess the effect of either, a competitive diffusion trough a CPL or a conductive CPL, on the corrosion phenomenon.
---
Adaptive Mesh Refinement: Quantitative Computation of a Rising Bubble using COMSOL Multiphysics®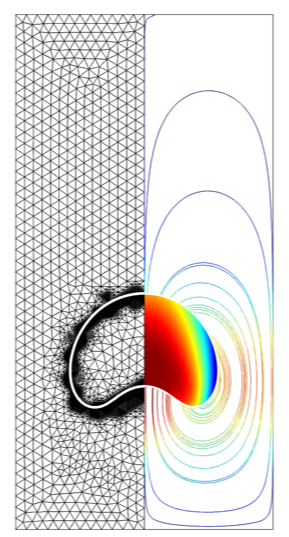 COMSOL European Conference 2018
T. Preney¹, P. Namy¹, J. Wheeler¹
1. SIMTEC, Grenoble, France
To accurately measure the variation of the unknowns, a relevant mesh should have a high density of degrees of freedom in regions where the norm of the gradient of the quantity of interest is significant. Fine meshes, on the other hand tend to induce long computational times, especially when complex 3D physics (fluid mechanics, electromagnetism …) are involved. The Adaptive Mesh Refinement (AMR) method implemented in COMSOL Multiphysics® can help to mitigate computational time while maintaining precision. Instead of using a fixed mesh throughout the simulation, the initial mesh is adapted to the solution while the simulation is computed.
In this paper, the rising of a gas bubble in a liquid is modelled with the finite element (FE) software COMSOL Multiphysics® using a two-phase flow approach. Results from literature are compared with results obtained using both fixed and adaptive meshes. The results from the AMR method available in COMSOL Multiphysics® are then compared with results obtained with different software: NaSt3D and OpenFOAM.
---
Manufacturing of Dysprosium-Iron Alloys by Electrolysis in Fluoride-Based Electrolytes. Electrolysis in a Laboratory-Scale Cell
Metall. Mater. Trans. 2018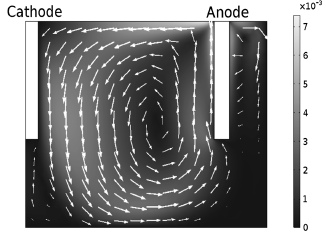 A. M. Martinez1, K. S. Osen1, A. Støre1, H. Gudbrandsen1, O. S. Kjos1, A. Solheim1, Z. Wang1, A. Oury 2 , P. Namy2
1. SINTEF Industry, Sem Saelands vei 12, 7465 Trondheim, Norway
2. SIMTEC, 8 rue Duployé, Grenoble, 38100 France

Electrolytic production of light rare earth elements and rare earth alloys with transition elements takes place in a fluoride-based electrolyte using rare earth oxides as raw material. The optimization of this method, mainly in terms of the energy efficiency and environmental impact control, is rather challenging. Anode effects, evolution of fluorine-containing compounds and side cathode reactions could largely be minimized by good control of the amount of rare earth oxide species dissolved in the fluoride-based electrolyte and their dissolution rate. The Dy2O3 feed rate needed for stable cell operation was studied by following up the anode voltage and gas analysis. On-line analysis of the cell off-gases by FTIR showed that the electrochemical reaction for the formation of Dy-Fe alloy gives mainly CO gas and that CF4 is starting to evolve gradually at anode voltages of ca. 3.25 V. The limiting current density for the discharge of the oxide ions at the graphite anode was in the range of 0.1 to 0.18 A cm2 at dissolved Dy2O3 contents of ca. 1 wt pct. Modeling of the laboratory cell reactor was also carried out by implementing two models, i.e., an electrical model simulating the current density distribution at the electrodes and a laminal bubbly flow model that explains the electrolyte velocity induced by gas bubble production at the anode.
---
Compressible Flow Modeling Occurring in a Depressurization Process
COMSOL European Conference 2017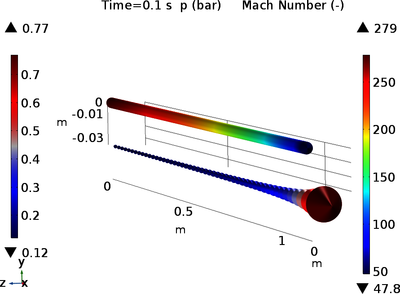 V. Bruyere1, T. Paris2, F. Viry1, P. Namy1
1 SIMTEC, 8 rue Duployé, Grenoble, 38100 France
2 CEA DAM, Valduc, Is-sur-Tille, France

The depressurization process is the emptying of one tank to another one through a pipe network. In order to optimize the design of pipes and tanks, a good knowledge of the gas flow behavior is required. The modeling of compressible flows with a Mach number near 1 is quite challenging and simplifications are necessary to create an efficient numerical tool. Thus, a simple model is developed here, using COMSOL Multiphysics® and the "Non-Isothermal Pipe Flow" interface. A theoretical validation is made by confrontation with analytical results. Then, using experimental results in multiple configurations, the model is adjusted to make it predictive.
---
Towards a Quantitative Prediction of Ice Forming at the Surface of Airport Runways
COMSOL European Conference 2017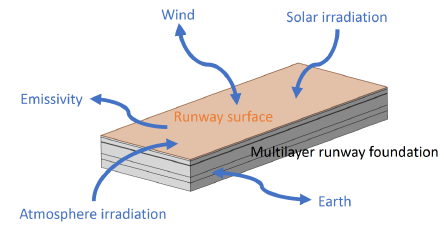 J. D. Wheeler1, M. Rosa2, L. Capobianco2, P. Namy1
1. SIMTEC, 8 rue Duployé, Grenoble, 38100, France
2. Groupe ADP - Laboratoire DIAMLX, 16 rue du Miroir, Roissy Charles de Gaulle, 95931, France

Anticipation of meteorological events such as ice forming is a key challenge to optimize the use of deicing/anti-icing products on airport runways. To obtain a predictive numerical tool of ice forming on the runways, Groupe ADP and SIMTEC developed a COMSOL Multiphysics® model, in which several physical phenomena contributing to the surface temperature variations of the runway are involved. Radiative exchanges occur from and to the atmosphere together with the solar radiations. Moreover, the underground thermal inertia has a key role as it varies depending on the season and the runway temperature of the previous days. At last, the wind is also a source of thermal variation because of the convection. A comparison with temperature measurement on the runway provides an evaluation of the model abilities. Whereas some phenomena contribution precision should be improved, the computation results are in agreement with the experimental measurements. Thanks to the numerical model, the different thermal contributions are gathered and the variation of the temperature is computed over time at the surface and in the different layers of the runway foundation.
---
Optimization of an explosive mixture cooling process including a phase change
COMSOL European Conference 2017
J. D. Wheeler1, C. Coulouarn2, E.Benade2, P. Namy1
1. SIMTEC, 8 rue Duployé, Grenoble, 38100, France
2. Thales TDA, Thales, La Ferté-Saint-Aubin, 45240, France

In the scope of improvement of the industrial "ammunition cooling" process, a COMSOL Multiphysics® model is developed to transfer an existing cooling process. A shell body is filled with a liquid explosive mixture. When all the shells have been filled the "cooling phase" takes place using specific equipment. This explosive mixture undergoes a phase change during the cooling and the solidification enthalpy is introduced to the model thanks to the "modified heat capacity" method. The specific equipment allows for cooling shells from its bottom to its top and therefore to ensure a continuous and unique solidification front. While the air surrounding the top of the device is heated, the bottom of the device is either soaked in water or cooled via a high velocity air flow. Thanks to the modelling approach, the industrial transfer had been optimized, by minimising set parameters for cooling phase. A user-interface is developed to allow the users of the model to easily vary the cooling conditions and the shell body geometry. COMSOL Server™ enables a remote computing to the users, thanks to an https secured internet connexion.
---
Numerical modeling of flow focusing: Quantitative characterization of the flow regimes
Physics of Fluids 2017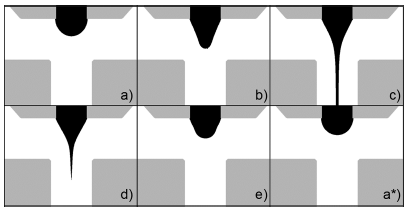 V. Mamet1,2, P. Namy3, and J.-M. Dedulle1,3
1 Laboratoire des Materiaux et du Genie Physique (LMGP), Grenoble INP–CNRS, 38016 Grenoble, France
2 DBV Technologies, 92220 Bagneux, France
3 SIMTEC, 38100 Grenoble, France


Among droplet generation technologies, the flow focusing technique is a major process due to its control, stability, and reproducibility. In this process, one fluid (the continuous phase) interacts with another one (the dispersed phase) to create small droplets. Experimental assays in the literature on gas-liquid flow focusing have shown that different jet regimes can be obtained depending on the operating conditions. However, the underlying physical phenomena remain unclear, especially mechanical interactions between the fluids and the oscillation phenomenon of the liquid. In this paper, based on published studies, a numerical diphasic model has been developed to take into consideration the mechanical interaction between phases, using the Cahn-Hilliard method to monitor the interface. Depending on the liquid/gas inputs and the geometrical parameters, various regimes can be obtained, from a steady state regime to an unsteady one with liquid oscillation. In the dispersed phase, the model enables us to compute e evolution of fluid flow, both in space (size of the recirculation zone) and in time (period of oscillation). The transition between unsteady and stationary regimes is assessed in relation to liquid and gas dimensionless numbers, showing the existence of critical thresholds. This model successfully highlights, qualitatively and quantitatively, the influence of the geometry of the nozzle, in particular, its inner diameter.
---
Modeling of the Lithium Hydride Hydrolysis under Low Relative Humidity
International Journal of Hydrogen Energy 2017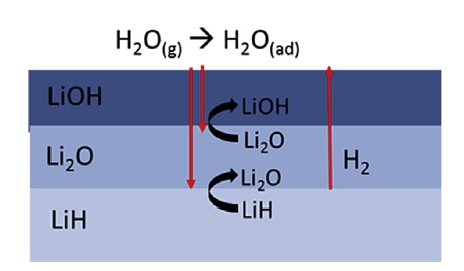 A. Oury2, P. Namy2, JP Bellat3, E. Sciora3, R. Besnard1
1 CEA Valduc, 21120 Is sur Tille France
2 SIMTEC, 8 rue Duploye 38100 GRENOBLE France
3 Laboratoire Interdisciplinaire Carnot de Bourgogne, UMR 6303 CNRS, Universite Bourgogne Franche-Comte, 9 A. Savary, BP47870, 21078 Dijon, France


A reactional mechanism describing the hydrolysis of lithium hydride (LiH) under moist atmosphere is proposed and modeled. It involves the formation of lithium oxide (Li2O) at low vapor pressure and both lithium oxide and lithium hydroxide (LiOH) at higher vapor pressures, with diffusion of water in these layers. A numerical model based on this mechanism is implemented with COMSOL Multiphysics to simulate the hydrolysis of LiH particles in open system (constant water vapor pressure). Kinetic parameters such as rate constant of reactions and diffusion coefficient of water in Li2O and LiOH are first fitted against experimental data. The best agreements are obtained when the diffusion coefficient of water is 10 times higher in LiOH than in Li2O. The resulting model accurately predicts the hydrolysis rates experimentally measured for a wide range of water vapor pressures (0.3e17 Pa). The hydrolysis mechanisms are compatible with a Li2O production limited by water diffusion and a LiOH production governed by the kinetics. Finally, simulation suggest that the thickness of the Li2O layer does not depends much on the water vapor pressure whereas that of LiOH increases drastically at high water vapor pressures.
---
Multiphysics Modeling of Pulsed Laser Welding
ICALEO 2016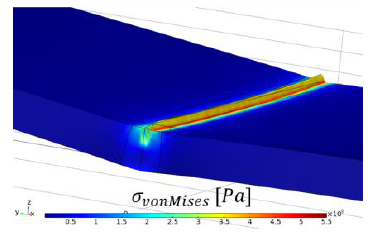 V. Bruyere2, C. Touvrey1, P. Namy2 and N. Authier1
1CEA Valduc, 21120 Is sur Tille France
2SIMTEC, 8 rue Duploye 38100 GRENOBLE France

Laser beam welding is largely used in industrial manufacturing because of the advantages it provides, such as high-quality welds. Nevertheless, depending on the operating conditions, porosities or unwanted deformations can be produced during welding operations. In order to understand and control the responsible underlying mechanisms, numerical models are developed in a unique finite element formalism. All models are based on experimental characterizations. First of all, a thermal-hydraulic model is developed to predict the dimensions of the melted zones and the heataffected zones as well as the mechanisms of porosities formation for a Ti6VAl4 alloy. A thermal-mechanical model including metallurgical phase changes is then developed in order to predict the residual states of stress and strain. The heat source is calibrated with an optimization procedure based on thermal-hydraulic analysis. Indeed, an equivalent approach is used to reduce the computational time for thermal-mechanical computations. Finally, this model is applied to a study case and numerical results are discussed and compared with experimental data.
---
Implementation of an Interferometric Sensor for Measuring the Depth of a Capillary Laser Welding
ICALEO 2016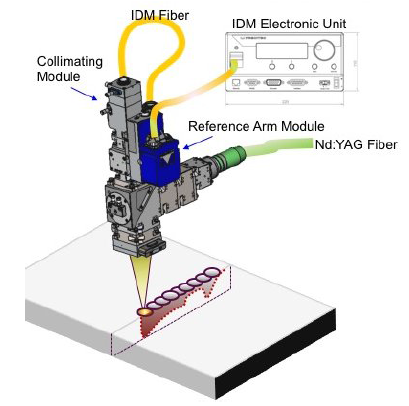 N. Authier1, A. Baptiste1, C. Touvrey1, V. Bruyere2, and P. Namy2
1CEA Valduc, 21120 Is sur Tille France
2SIMTEC, 8 rue Duploye 38100 GRENOBLE France

The welding laboratory located at the Commissariat a l'Energie Atomique et Aux Energies Alternatives (CEA) Valduc center in France uses pulsed and continuous wave (CW) laser sources to assemble metallic parts of low thicknesses. This article discusses the results obtained by the recent implementation of the In-process Depth Meter (IDM) of PRECITEC keyhole depth measurement sensor in our laboratory. This distance measurement technology uses a Michelson interferometer adapted to the very special conditions of the laser beam welding. Micrographs of pulsed welding tests on 316L stainless steel, TA6V plane sheets butt joints are analyzed and compared to the inline collected signals. The system's ability to follow dynamically the formation of the keyhole into the molten metal is evaluated and compared to numerical models performed in the lab using the nite element COMSOL Multiphysics software.
---
Electrical and Bubbly Flow Modeling of a Molten Salt Electrolysis Cell
COMSOL European Conference 2016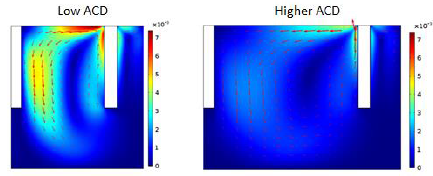 A.Oury1, P. Namy1, A.M. Martinez2, K.S. Osen2 and A. Solheim2
1SIMTEC, 8 rue Duploye 38100 GRENOBLE France
2SINTEF Materials and Chemistry, Sem Saelands vei 12, 7465 TRONDHEIM, Norway
A laboratory-scale electrolysis cell for the recovery of metals is simulated with COMSOL Multiphysics. Two models are implemented: an electrical model simulating the current density (reaction rate) distribution at the electrodes and a laminar bubbly flow model which solves for the electrolyte velocity induced by gas bubble production at the anode. A parametric study on the mesh refinement, the anode-cathode distance (ACD) as well as the bubble diameter (Db) is carried out. Quite heterogeneous current distributions are simulated at the electrodes' surface, with strong edge effect at the cathode. At the anode, a more uniform current is however obtained when increasing ACD. The bubbly flow model suggests that significant electrolyte convective motions between the electrodes are favoured for small values of both ACD and Db.
---
Aerothermal Simulation of a Refrigerated Truck Under Open/Closed-Door Cycles
COMSOL European Conference 2015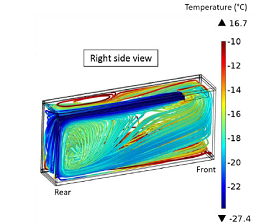 A. Oury1, P. Namy1, M. Youbi-Idrissi2
1 SIMTEC, GRENOBLE
2 AIR LIQUIDE, Jouy en Josas, France
Heat transfer inside a refrigerated truck is a key phenomenon that governs the temperature inside the truck and the regulation of the cooling system. Up to now, a lot of experimental studies ([Tso et al., 02]) have been carried out to assess the effect of opening the door and to minimize the external heat transfer with fan air curtain. Together with AIR LIQUIDE, the world leader in gases, technologies and services for Industry and Health, SIMTEC, a French COMSOL certified consultant company, has developed a numerical model in COMSOL Multiphysics® software to simulate the heat transfer phenomena occurring during the use of the refrigerated truck, considering both open- and closed-door periods. The model is based on a coupling between CFD (k-ε/k-ω models) and heat transfer. Comparison with experimental results shows a reasonable agreement in terms of temperature inside the volume and at some specified points. This work demonstrates the feasibility of using COMSOL to model non-isothermal turbulent flow.
---
Numerical Characterizations of Viscoplastic Behavior of TA6V with Metallurgical Phase Change
COMSOL European Conference 2015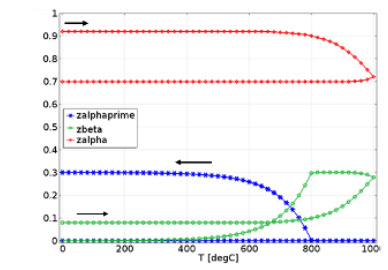 Vincent Bruyère 2, Charline TOUVREY1, Patrick NAMY2
1 CEA Valduc, 21120 Is sur Tille
2 SIMTEC, 38100 GRENOBLE
In order to predict the residual mechanical state of assemblies during pulsed laser welding, mechanical and metallurgical behaviors of the materials need to be precisely characterized. Based on experimental data and analyses, a numerical model is developed in Comsol Multiphysics to take into account the predominant effects (metallurgy influence, viscoplastic behavior) identified for TA6V. To validate our implementation, experimental and numerical results are compared at different temperatures.
---
A Phase Field Approach to Model Laser Power Control in Spot Laser Welding
COMSOL European Conference 2014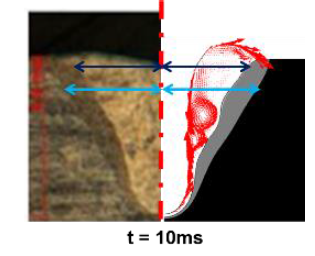 Vincent Bruyère 2, Charline TOUVREY1, Patrick NAMY2
1 CEA Valduc, 21120 Is sur Tille
2 SIMTEC, 38100 GRENOBLE
Spot laser welding is largely used in industrial manufacturing, especially in the case of small penetration depth. Unfortunately, welded joins are often polluted by porosities. The formation of porosities depends on complex thermo-hydraulic phenomena. To understand and control these mechanisms, the COMSOL Multiphysics software is used to model both the interaction and cooling stages of an isolated impact made with a Nd:YAG pulsed laser. The model is based on the Phase Field method in order to apprehend the evolution of the liquid-gas interface shape. The numerical results are compared to experimental characterizations for different operating conditions. At last, the benefic effect of the laser power control (pulse shaping) is demonstrated.
---
Thermohydraulic modeling of pulsed laser welding
ICALEO 2013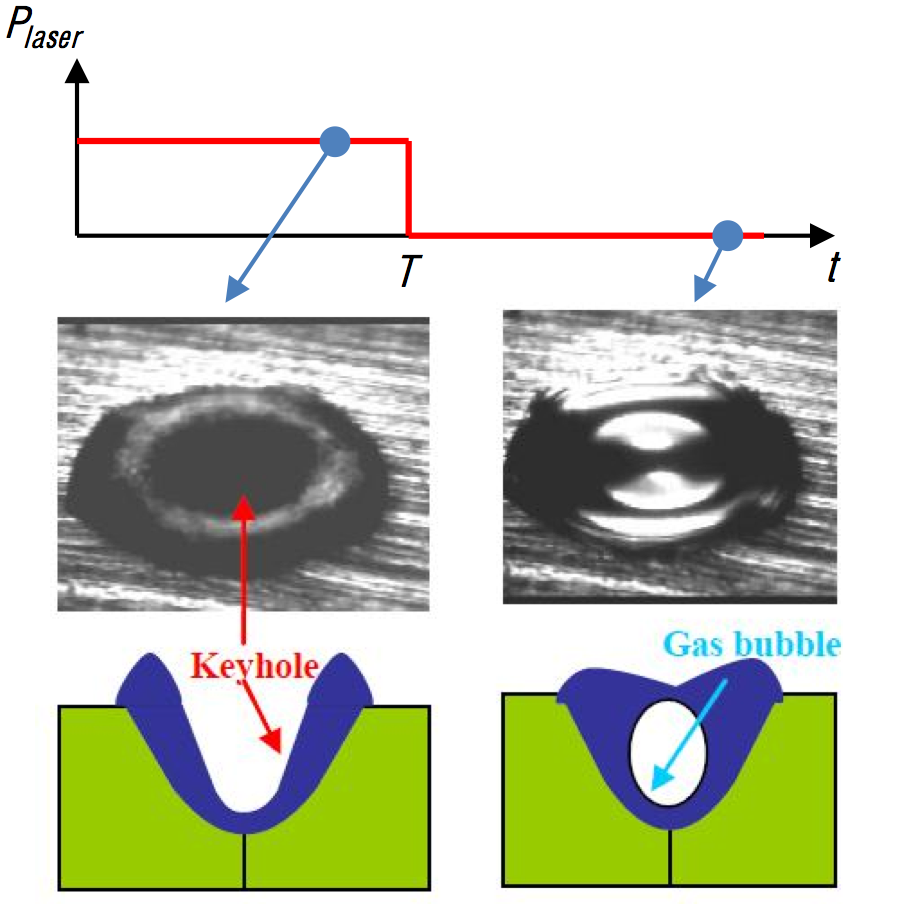 Vincent Bruyère 1, Charline TOUVREY1, Patrick NAMY2
1 CEA Valduc, 21120 Is sur Tille
2 SIMTEC, 38100 GRENOBLE
The major aim of this study is to increase our understanding of the link between operating parameters and thermo-hydraulic evolution in the welding area, in the case of an isolated impact made with a Nd:YAG pulsed laser on a thin Ti6Al4V sheet. Two numerical approaches are used to model both the interaction stage and the cooling one. During the interaction, the free surface behavior is precisely described by a moving mesh method (ALE method). The dependence between the interface temperature and the recoil pressure is discussed and a simplified approach is used. The keyhole collapse and the cooling stage are modeled by the phase field method (Eulerian method), which enables to consider the behavior of the gas trapped into the melting pool. Numerical calculations are compared to experimental characterizations (melted zone shape and defects position), in the case of relatively low laser power (inferior to 1000 W).
---
Comparison between

Phase Field and ALE Methods to model the Keyhole Digging during Spot Laser Welding
COMSOL European Conference 2013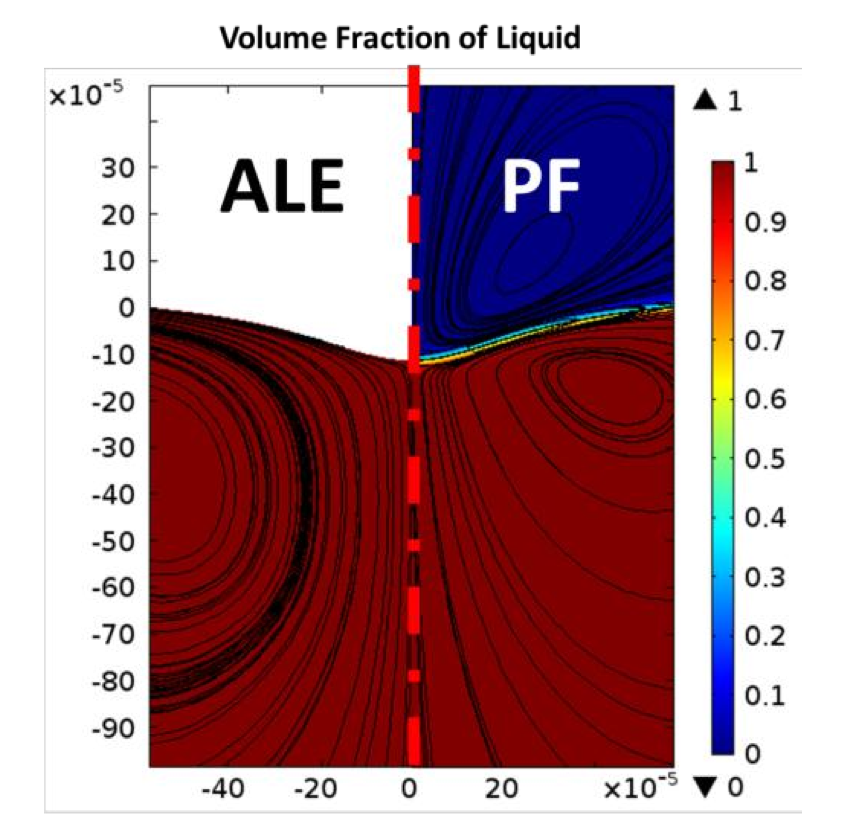 V. Bruyère1 , Charline TOUVREY1, Patrick NAMY2
1 CEA Valduc, 21120 Is sur Tille
2 SIMTEC, 38100 GRENOBLE
Nowadays, spot laser welding is a full-fledged part of industrial manufacturing and is routinely used due to its advantages. It generates very located temperature gradients, and therefore, induces small distortions in the pieces. The COMSOL Multiphysics software is used to model the interaction stage of an isolated impact made with a Nd:YAG pulsed laser. The free surface evolution has been precisely described with a moving mesh method (ALE method) by imposing the recoil pressure and the energy deposition as boundary conditions. The results have been compared with those obtained with a fixed mesh method (Phase Field method) for isothermal and thermal cases. A discussion is proposed to choose the more appropriate method to model this problem.
Keywords: Welding, ND : YAG pulsed laser, Thermo-hydraulic, ALE, Phase-Field method.
---
Modélisation de la formation des défauts de type porosité lors du soudage de matériaux métalliques par laser impulsionnel
Séminaire CNRS Européen Recherche/Industrie Laserap'7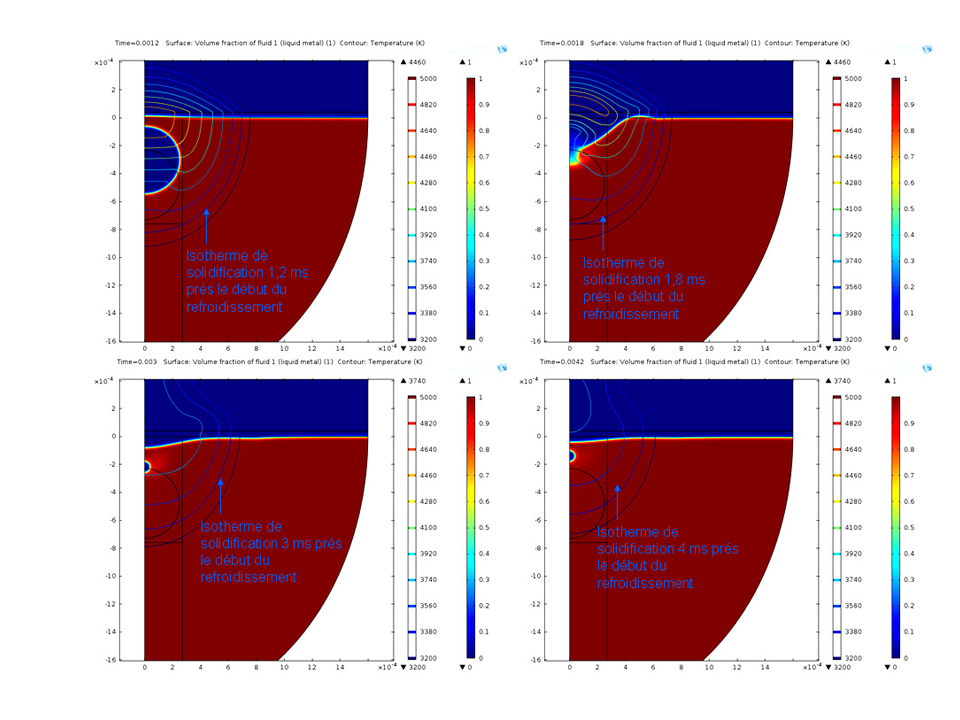 Charline TOUVREY1, Patrick NAMY2, Céline COSSU1
1 CEA Valduc, 21120 Is sur Tille
2 SIMTEC, 38100 GRENOBLE
Le procédé de soudage par laser impulsionnel permet d'assembler des pièces métalliques par une succession d'impacts, produisant chacun une fusion localisée de la matière. À la fin de l'impact laser, les phases de remplissage du capillaire et de solidification du métal liquide se succèdent. Des bulles de gaz emprisonnées dans le bain de soudage peuvent alors conduire à la formation de porosités. Afin d'améliorer notre compréhension du lien entre les propriétés thermophysiques des métaux et les risques de formation des défauts, un modèle numérique reliant les caractéristiques géométriques du bain fondu et la durée de remontée des bulles de gaz a été élaboré au sein du code COMSOL. Ce modèle se borne à représenter les phénomènes physiques après l'arrêt du faisceau laser, une fois le capillaire de soudage rempli. Le calcul prend en compte la remontée des bulles sous l'effet de la poussée d'Archimède, l'influence de la tension de surface, et l'avancée du front de solidification liée au refroidissement (calcul thermohydraulique couplé). Des calculs ont été menés pour deux matériaux, le tantale et l'alliage de titane TA6V, pour différentes tailles initiales de bulles.
---
Formation of Porosities During Spot Laser Welding of Tantalum
COMSOL European Conference 2011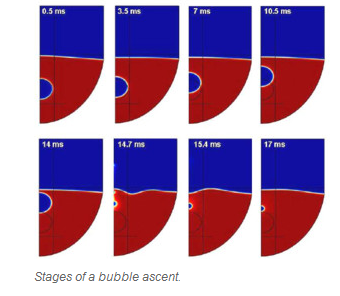 C. Touvrey1 , and P. Namy2
1 CEA Valduc, Is-sur-Tille, France
2 SIMTEC, Grenoble, France
The aim of the study is to predict the formation of porosities in the case of spot laser welding of tantalum. During the interaction, a deep and narrow cavity, called the keyhole, is generated. At the end of the interaction, surface tension provokes the collapse of the keyhole. Gas bubble can then be trapped into the melting pool, and give birth to residual porosities, according to the solidification time.

A model has yet been developed to simulate keyhole collapse. This model was presented at the last COMSOL European conference. The purpose of the present study is to simulate the bubble up rise. The problem is especially complex due to the high surface tension of the liquid tantalum (2.1 N.m-1).
---
Comparison Between Honeycomb and Fin Heat Exchangers
COMSOL European Conference 2011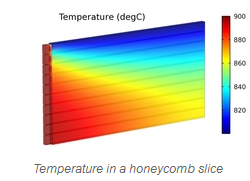 P. Gateau1 , P. Namy2 , and N. Huc3
1 SAS SYNGAS, Saint Viaud, France
2 SIMTEC, Grenoble, France
3 COMSOL, Grenoble, France
Metal honeycombs are used as catalyst supports. They can be considered as complex fins for heat exchange. A simple heat transfer model was compared with 2D simulations using COMSOL Multiphysics. There was a good correlation when the fluid temperature was the same in all cells. However, significant discrepancy apperared when compared with a 3D simulation with laminar flow.

Honeycomb cells produced a temperature gradient which reduced the heat transfer. The radiant transfer was also investigated using 2D simulation. Modeling using COMSOL revealed the drawbacks of using honeycombs in steam reforming reactors. 3D modeling showed that a careful representation of the inlet was needed for realistic results.
---
Finite Element Analysis of Cables Heating Due to PoE/PoE+
COMSOL European Conference 2010
S. Francois1, and P. Namy2
1Nexans Research Center, Lyon cedex, France
2SIMTEC, Grenoble, France
Power over Ethernet (PoE/PoE+) is a technology allowing to transmit data and power over the same data cable. The major concern for this technology is the degradation of data transmission performances due to the temperature increase in the cable. To have a better quantitative and qualitative knowledge of the temperature field in the cables, Nexans has developed a 2D finite element thermal model thanks the software COMSOL Multiphysics. In this model, the heat source is due to the joule effect, depending on the intensity level. This thermal model enables us to take into consideration several configurations of cable bundles and to optimize the temperature field thanks to cable design.
---
Level Set Method for Fully Thermal-Mechanical Coupled Simulations of Filling in Injection and Micro-Injection Molding Process
COMSOL European Conference 2009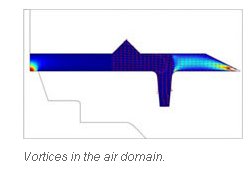 M. Moguedet1, R. Le Goff1, P. Namy2, and Y. Béreaux3
1Pôle Européen de Plasturgie, Bellignat, France
2SIMTEC, Grenoble, France
3INSA de Lyon, Site de Plasturgie, Bellignat, France

In this work we tackle a more theoretical aspect of micro-injection molding, to better understand physics during the process, through numerical simulations of cavity filling. We developed a two phase flow approach by the use of COMSOL Multiphysics®. In a first step, a Level Set model is applied to several configurations: Newtonian and non Newtonian fluid (Cross viscosity law), coupled with a thermal equation and a thermal dependence of the viscosity (Williams-Landel-Ferry law). We take into account the unsteady thermal behavior of the mould while injecting the polymer into the cavity. Finally, as air –trapping often occurs in the injection molding process, we present some results considering a pseudocompression law (low Mach number) for the air. To conclude, we show the ability of the COMSOL model to simulate polymer filling in microfeatures.
---
On the Use of COMSOL Multiphysics to Understand and Optimize the Filling Phase in the Injection and Micro-Injection Molding Process
COMSOL European Conference 2007

M. Moguedet1, P. Namy2, and Y. Béreaux3
1Pôle Européen de Plasturgie, Bellignat, France
2SIMTEC, Grenoble, France
3LAMCOS, Site de Plasturgie, INSA Lyon, Bellignat, France
The work presented here deals with the simulation of the cavity filling stage of the injection and micro-injection molding process for thermoplastic materials. COMSOL Multiphysics gives us the means to take into consideration some other aspects usually neglected in commercial 3D softwares dedicated to polymer processing. In particular, tracking of the flow front is based on a Level Set approach. Results are presented for a Newtonian and non-Newtonian polymer, and in an isothermal or thermal dependant configuration. The calculations are compared to experimental results on a polypropylene.
---
Convective Movements in an Electrolyser
COMSOL European Conference 2007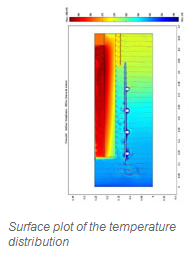 B. Morel1, P. Namy2, C. Belhomme1, and I. Crassous3
1Comurhex, Pierrelatte, France
2SIMTEC, Grenoble, France
3LI2C, Paris, France
Modeling electrolysers is a challenge because of the strong coupling between electrical, thermal and CFD equations. Indeed the electrical conductivity of the electrolyte varies with the temperature, which in turn depends on the heat dissipated by the Joule effect and anode over-voltage.In the present study, the fluid velocity values are computed near the electrodes using a diphasic level set model, but the full calculations are performed using a monophasic model. Our goal is to evaluate the relationship between the average temperature of the cell and the average current for a given cooling surface.